Rooted In Country
Every genre needs an official sponsor. We're not sure who country music's is, but we'd like to think it's us. Whether it's a sold-out stadium or a starlit cantina stage, there's bound to be country star there singing their heart out in an official Rural Cloth hat. Probably.
100% American Grown Hops.
The Rural Cloth family has been drinking Coors and Coors Light since we were singing around bonfires and swimming in the local rock quarry.
Shop the Coors Light Collection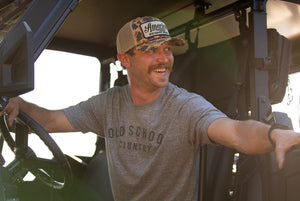 Over 40,000 satisfied customers
★★★★★

Being a hardworking, small town Southern girl, I choose Rural Cloth because I never compromise on my standards or my comfort.
★★★★★

Thank u @ruralclothusa for my new fave hat, I'm obsessed!
★★★★★

I've had several friends tell me that they want this hat!
★★★★★

It came on time and the hat fit perfect can't be happier.
★★★★★

Ever since I purchased this hat I wear it everywhere I go and I've gotten so many compliments from wearing it.